The Kelvin 23 Urban Multi-Tool
Tuesday, March 23rd, 2010 at 5:19 PM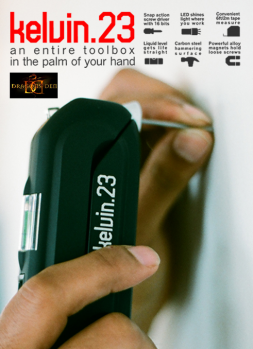 You've probably seen the story of this cool & useful product on "The Dragon's Den" on CBC Television.
Now it is available as a promotional idea that can include your domed brand or message that is permanently attached to the multi-tool.
This is a great promotion for any business, as the tool is used a lot in the household or in the office.
It has 23 different functions & options, including a hammer, level, LED light, tape measure and multiple, magnetic screw driver functions.
Quality craftsmanship and true functionality for every age group & gender, make this multi-tool a winning promotional idea. This tool generated a lot of interest from the folks on The Dragons Den.
Here's what some of the celebrities had to say about the Kelvin 23 Multi-Tool!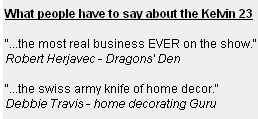 And the pricing on these promotional multi-tools is quite similar in cost to a decent golf shirt…except these will be used much longer, by more people. And you can't hang a picture with a golf shirt!
Be sure to contact us if you are interested in this very cool, very popular and very functional promo idea!
Tagged with: tools
Filed under: New Promotional Ideas • Promotional Info
Like this post? Subscribe to my RSS feed and get loads more!