Stainless Steel Auto Tumblers Special!
Wednesday, March 3rd, 2010 at 10:41 AM
Have you been looking for the perfect gift for your staff, clients, event or promotion?
Something that is useful, functional and popular with all demographics?
Check out this great offer on stainless steel auto tumblers! Or call them travel tumblers if you like!
These are 500 ml (or 16 oz) tumbler styles with the added benefit of having a twist-off lid. Also these are double-walled stainless steel and FDA approved and BPA free. So no worries about quality here!
The NEWEST style is the sure-grip style tumbler in Stainless finish along with the original auto tumbler in Stainless or Black finish.
Click here or on the image below to access our Easy Order Page for this limited time offer.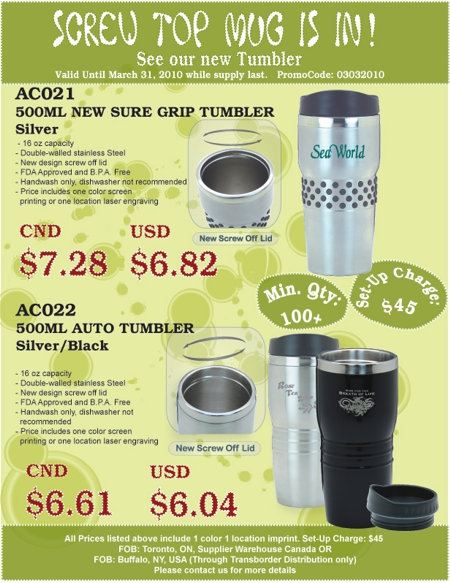 Tagged with: stainless steel • travel mugs • tumblers
Filed under: Promotional Specials
Like this post? Subscribe to my RSS feed and get loads more!